12 x GLUTA 400000 MG. SUPER SKIN WHITENING GLUTATHIONE COLLAGEN ANTI-AGING
12 x GLUTA 400000 MG. SUPER SKIN WHITENING GLUTATHIONE COLLAGEN ANTI-AGING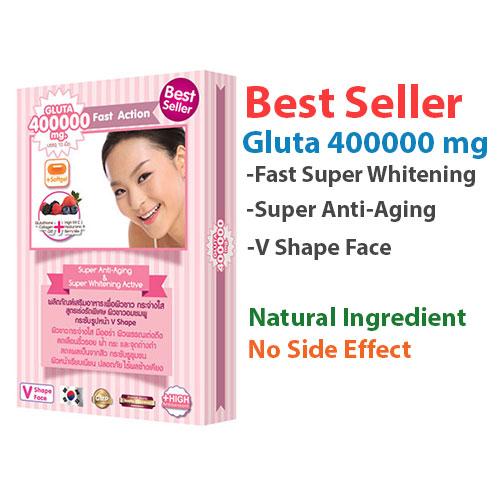 GENDER

  UNISEX

BRAND

Gluta 400000 mg.

QUANTITY

10 Softgels each box
(12 boxes = 120 Softgels)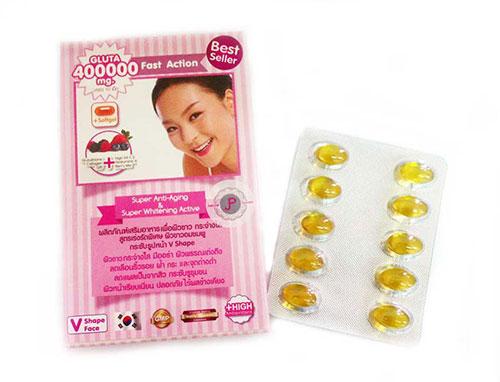 Product Details :
Gluta 400000 Super Whitening Snow Super Anti-Oxidant Anti- Aging Hight Glutathione Fiber vit C Berry Mix Innovative and advanced skin care. White with pink skin. White glow with the aura color of the skin soft, smooth skin like snow.
Remove wrinkles, blemishes, acne, freckles, white skin with a natural New formula SOFT-GEL contains L-Glutathione concentration of 400000 mg. from Korea blend with natural extract and pure vitamin of berry mixed fiber extracted process.
Super Whitening Aura .Professional Glutathione for Lady & Gentlemen.Very fast white effective. Gluta 400000 mg.+Vit.C 25000 mg.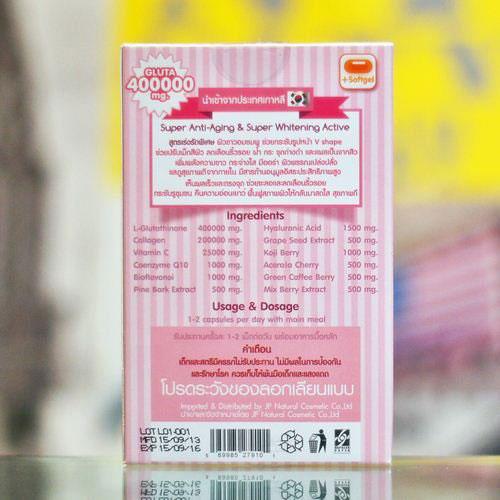 Ingredients :
L-glutathione           4000000 mg.
Collagen           2000000 mg.
Vitamin C           25000 mg.
Coenzyme Q10           1000 mg.
Bioflavonoi           1000 mg.
Fine Bark Extract           500 mg.
Hyaluronic Acid           1500 mg.
Grape Seed Extract           500 mg.
Koji Berry           1000 mg.
Acrrola Cherry           500 mg.
Green Coffee Berry           500 mg.
Mix Berry Extract           500 mg.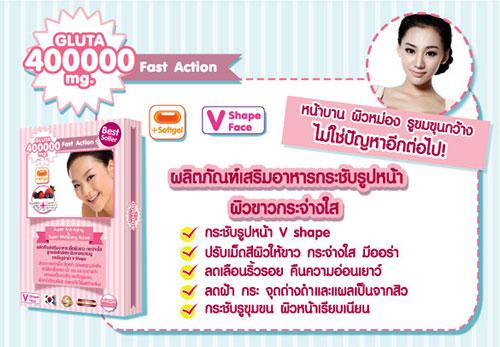 1-2 capsules per day with main meal.
For best results continue to take for 2-3 months. 
---